1.All Qualifiers Against Stats Pack/Ratings Pointers
2.Any 'Notes' (my subjective thoughts/'tips')
3.Micro System Test Zone
4.Any general messages/updates etc
*
1.All Qualifiers Against Stats Pack/Ratings Pointers
FLAT 
Musselburgh
2.40 – 
Royal Brave (all hncps) ES+  H3 I3  9/2 S3A WON 9/2 
Pea Shooter (all hncps) w2  16/1  UP
3.10- 
Donnelly's Rainbow (all hncps) ES+ G3 20/1 S3A  3rd 20/1 
5.15 – 
Gone With The Wind (all hncp) w2 ES+ G3 9/1 S3A  3rd 
Palace Ball (4yo+) (handicap debut) 20/1  UP
Chepstow 
2.00 – Bombero (all hncps) H3 G3 7/2 S5 WON 9/2 
*
KEY
H1/H3 = HorseRaceBase Top Rated or Top 3 Rated (at time of posting)
G1/G3 = Geegeez Gold Speed Ratings (Dr Peter May) Top Rated or Top 3 Rated
I1/I3 =  Inform Racing Speed Ratings – Top Rated or Top 3
14,30 = Geegeez Gold 'trainer form' indicators. 14 – 5+ runs last 14 days, 20% win sr OR 51%+ place (inc wins) sr. 30 – 10+ runs last 30 days, 20% win sr OR 51%+ place (inc wins) sr
ES – 'Elite Squad' qualifiers:  Flat : HERE      Jumps 2017/18: HERE>>>
ES + – Elite Squad 'Plus' +   (rationale/ angles in link above)
S1-S6 : S = 'Strategy' and refers to the 'advised strategies' in the link below. S1 = 'Strategy 1'. Added on morning of racing along with the price. w1– won last start.   w2– won two starts ago (tracking as of 15th Feb 2018)
'Advised Flat Strategies': Flat 2017 Read HERE>>>   (updated to end 22nd April 2018)
'Advised Jumps Strategies': Jumps 2017/18 Read HERE>>>  (updated to end 22nd April 2018)
Research Articles: (TTP reports/Test Zone/Monthly Articles/Big Meetings Notes/David Peat Profiles) READ HERE>>>
VIDEOS: Members Repository: HERE>>> . All Public (non members only) Videos HERE>>>
IMPORTANT: Welcome Info  HERE>>> (please read) (inc must watch videos :)) 
Contact: email:  – info@racingtoprofit.co.uk  … or failing that… racingtoprofit@gmail.com 
2.Any 'Notes' (my subjective thoughts/'tips')
Test/trial  : 'NOTES' 'aka Tips'  (2017 Sept-Dec: 31/176, +110.75)(2018: 7/83,29p, +7.5)  (1 point win bets) (Festival Tips 2018: +101.5)
NOTES
5.15 Muss – Palace Ball – 1 point win – 25/1 (gen)  UP – I think we can put him in the 'not very good' category! It be fascinating to see if Mick can work his magic on him at all, but you'd certainly want to see him show more before ever wading in again! Maybe he needs even further or is taking a very long time to get to grips with the racing game. 
Well the whole point of this 'notes' approach, which is a different mindset to what I used to have when agonising over a 'tip of the day' is to go 'sod it' with horses like this, let's have a go. Every now and then the pin will land on a 20s+ shot that has a profile just like this one. This horse has his second start for Mick Easterby here, his second run of the season, he makes handicap debut, returns to turf, steps up in trip, a jockey switch and is in the 'could be anything' category. I suspect we may not see much today and he could just be moderate full stop, but Mick tends to buy very well from other yards so he must have seen something with his stockman's eye. The stats suggest he may have switched things up with handicap debutants and maybe that's the influence of his son David, who appears to be a chip of the old block and is very involved now. In any case, since the start of 2016 he is 3/24,11p with handicap debutants, including second places at 16s, 20s, 33s. It may be wise to have an EW wager on this one. He is3/17,8p on turf with such types in that time, 3/9,6p in class 5 and 6. Very micro, but promising, and that will highlight winners down the line. Odds don't seem to matter with the Easterby clan, they tend to all in at all prices, more a case of really taking note when the money comes, rather than being perturbed when it doesn't. Finally… trainer and jockey are 6/24,14p at Muss in handicaps, +21 in the last 5 years. 2/8,4p in the class. So, as always, there is some method. He tends to be held up and from that draw probably will be again. Hopefully I get a run for my money but anything could happen. It looks an open enough race on paper to me, very winnable. Gone With The Wind…he is 0/13 on turf that is good/good to firm…his record suggests he needs cut on grass but we shall see if he turns that profile on it's head. 
That's all for tips. 
Yesterday's poke ran well enough, another place. If I can hit 29 wins/places every 83 bets I strike I will have no worries for the rest of 2018 as enough will go in and at the odds I play at I don't need many. He broke well enough, got a decent position and just wasn't good enough on the day, two better handicapped horses ahead of him. A decent run though from the old boy. The winner was getting his head in front for the first time since August 2016 and I can always leave those at 7/2 but given his mark and various efforts, it wasn't a shock. The second ran well and he has a sprint handicap or two in him. 
3.Micro System Test Zone
None.
4.Any general messages/updates etc
I am so happy. Blessed. What a girl. If I could bottle that feeling of elation I would. It can't really be matched. Sheer joy. Lemos has made all the difference there. He's been injured for an age but being Amy's partner, and in effect stable jockey for all flat horses, does plenty of work on her. She looked a picture pre race, the best in the line up by a mile. She was 'on it' – revved up but not too keen. She walked into the stalls and broke on terms. The first time she's done that since her debut win. She had strengthened up for her winter break and needed the run LTO. Tonight she has broke on terms, tracked the pace and settled after 1.5f or so having been keen, and then she has fought like a tiger, wanting to win. The step up to 6f has worked as hoped and she will win again. It's a great group in the syndicate and Amy/Lemos were drinking plenty with us a good 2 hours after the race had finished. It doesn't get better in this game! (oh and there are 4 shares free if you want one) (oh and she went off 16s! and 'the gang' has had a fair wedge on her between us. What a game) 
Happy horse this morning…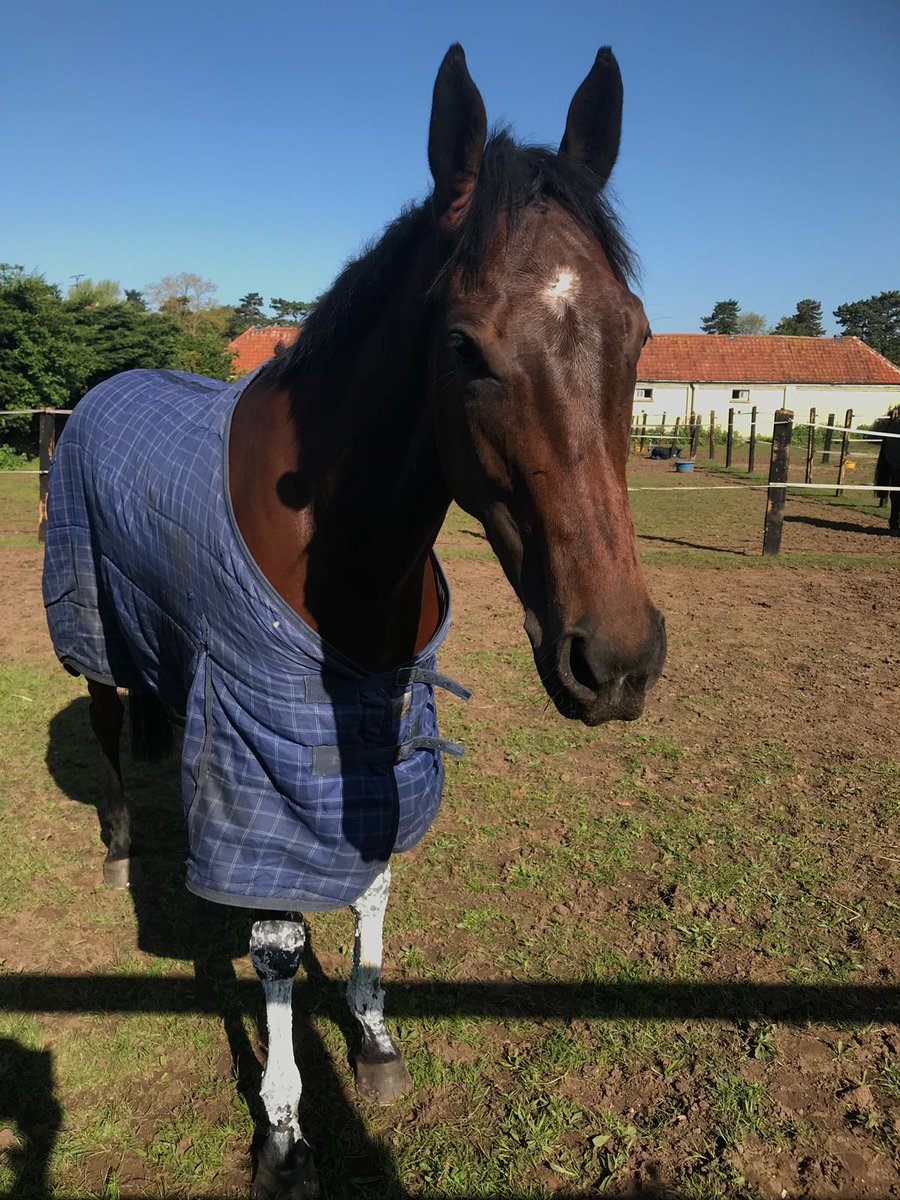 **
Trainer Track Profiles: Flat 2018:  LINK to follow later today. I'll get Goodwood and Hamilton complete first.
*